Jan Karon's new book, In the Company of Others has finally been released.This is the second book in her Father Tim series. Two years ago when my friend (in crime) Kathy and I attended a book signing and met Jan Karon, she was working on this novel.
Becky, Jan Karon and Kathy D. at book signing 12/08
Ms. Karon spoke of her travel to Ireland which is the setting of this book. I'm reading this one slowly to savor each part. I should finish it this evening. The timing is perfect since I picked up the audio book today from our public library. I plan to listen to it on my drive to Baton Rouge tomorrow.
Last week, the Georgia Center for the Book hosted Jan Karon as part of her book tour for In the Company of Others. Brenda e-mailed me this summer about the visit. We both put it on our calendars. The doors opened at 6:00 pm. We drove into the parking lot at 6:00. We had second row seats. As we were sitting waiting for the event to begin, two ladies across the isle were looking at the vacant seats next to us. We recognized one of the women as Brenda Furman, Jan's sister. Brenda was the editor of The Mitford Bedside Companion.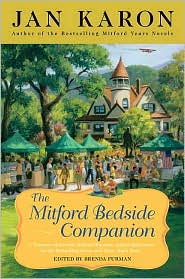 Brenda D., Kathy D, Brenda Furman and Nancy, Brenda's friend
We assured them the seats were available and reintroduced ourselves to Brenda. Kathy and I had met Brenda at the book signing in December of 2008. It was great fun visiting with these ladies. It added to our enjoyment of the evening.
Brenda (The Quilting Cowgirl) Me, Brenda (Jan Karon's sister) Nancy (Brenda's neighbor and friend)
After her talk, there was an opportunity to meet Jan and her editor.
This is the Front of the bookmark from the event.
This is the front and back of a bookmark from the event
Sometimes, it's really a small world. The next day I attended an annual retirement luncheon sponsored by our school system. There were probably 600 retirees at the event. Imagine my surprise, when I recognized one of the ladies at our table as one of the women sitting behind us from the Karon event the night before. It was a "Kodak" moment. It was a pleasure sharing lunch with another Karon fan.
Joan G. and me