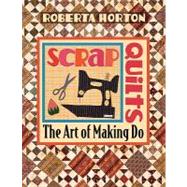 Yes, I know it's almost Spring, but it was at the Fall Festival that I found this treasure --- this wonderful old quilt book,
Scrap Quilts: The Art of Making Do
by Roberta Horton. I absolutely fell in love with this quilt:
There is just the picture and how it uses scraps. It's made from many colors and what looks like shirting fabrics. There are no instructions in how to make this quilt. I'm pretty good at following directions in a pattern, but haven't any real desire to design or sketch designs. I dont' EQ; although once I retire I think I'd like to learn EQ.


I was thrilled to discover a free pattern for this design.   Bonnie Hunter  at
www.quiltville.com
has written instructions called 
I'm thrilled to have found both of these patterns. I've printed them off and am ready to start hunting through my scraps and stash for the right fabrics. When I find myself on the road  to
Sweet Home Quilt Shop
or on the Atlanta Shop Hop later this month, I can look for fabric for  my 16 Patch and Pinwheel quilt.
Don't you just love planning a new quilt?
Time to sew on Michael's T-shirt quilt so that I will be able to work on another project soon.  (Photo of quilt from Bonnie Hunter's website)